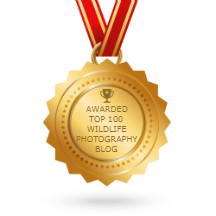 A quick blog post to say THANK YOU to everybody who reads my blog (which I admit, isn't updated as regularly as it should be) or follows me on my Twitter and Instagram feeds or my Facebook page.
My website has been included in a 'Top 100 Wildlife Photography Blogs and Website' listing at number 44! I'm not sure how my website and social media influence is measured to come to this conclusion but it's nice to know anyway. So, thanks again!
Facebook | Twitter | Instagram | YouTube
My YouTube channel is a fairly new thing for me and includes a few videos that I take on either cameras, iPhone or GoPro when I'm out and about. I'm hopping to do some more structured 'Vlogging' soon!