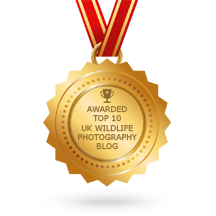 Less than a year after my website and blog were included in a 'Top 100 Wildlife Photography Blogs and Websites' listing, I'm very pleased to see I have also been included in a Top 10 for the UK at number 6.
So, THANK YOU to everybody who reads my blog or follows my photography on Twitter and Instagram feeds or my Facebook page.
Facebook | Twitter | Instagram | YouTube
My YouTube channel is still in its infancy, I think I underestimated just how much time it takes to produce any Vlogs! But, I still have plans to keep it updated anyway.